> Introduction > Greeting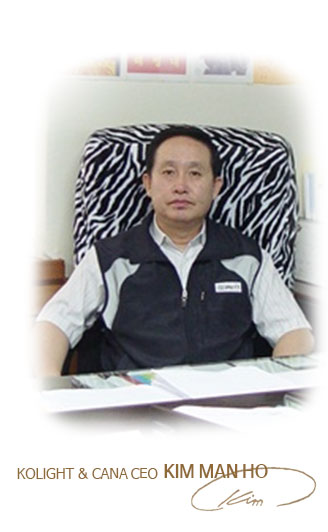 With existing expertise in the field of chemistry, physics and
mechanics, KOLIGHT & CANA holds a number of patents in areas of Nano technology, industry materials, optical science, and
production facilities. Furthermore, our proprietary technology in
retro reflective products has allowed us to possess our own
production line, supplying government-related companies, in
addition to exporting to over 35 countries worldwide.
KOLIGHT & CANA. is a company with supreme level of research
and development, tackling wide range of projects including solar
energy development, among others.
KOLIGHT & CANA unprecedented level of technology,
the result of supreme manpower and world-class research facilities, has allowed our advancement to the world-class quality level in manufacturing of retro reflective sheets.
We look forward to proceed with honor and integrity, for
a vision to further contribute to optics and safety
materials industry and ultimately to enhance the living of greater mankind.
Thank you in advance for your continued encouragement and support.
HQ:Kolight & cana 4F,5F CANA Bldg,374-3 Jangan-dong,Dongdaemun-gu,Seoul,Korea
Shop:Kolight & cana 321-24 Jongno 5-ga,Jongno-gu.Seoul,Korea
Factory:Kolight & cana 286-6 Sampae-dong,Namyangju-si,Gyeonggi-do,Korea
Tel:82-2-454-0476 / Fax: 82-2-2201-0476 / E-mail:kolight1@hanmail.net